How to change web designer in the Philippines?
Here's how to change webmaster or change web agency
Replace one web designer with another, know how to compare and choose, we answer all your questions.
Why do many website owners often change webmasters? Tutorial and tips for changing web designer or changing web agency and keeping your website. Stay the owner of your website and look for a new webmaster for your site. The answer in this article.
It is essential to understand why there are more and more website owners who no longer trust web professionals (independent webmasters and web agencies). Just as it is important to understand why there are many webmasters and web agencies in the Philippines: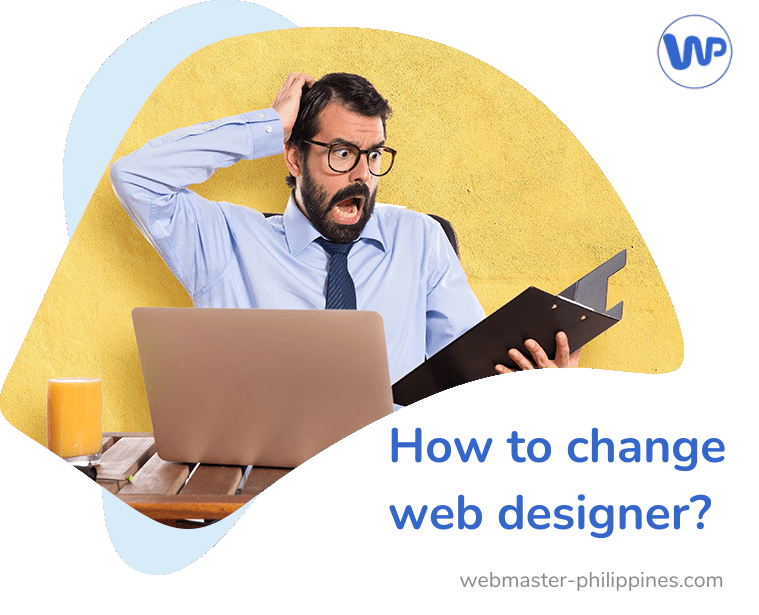 In 2022, competition is at its highest point regarding the creation of websites and digital in general. Life is becoming more and more expensive, the world of employment is becoming less and less attractive and many web contents flood our minds to tell us constantly, that you have to be your own boss to be happy, that it is not necessary to work for the money, but to make the money work for us and many other reasons to acquire financial freedom. These new business or personal development coaches only talk about money and success, not to mention sacrifice, long-term work. They encourage many young people to use free solutions to achieve the success they crave.
More and more people want to earn money to become true financially free entrepreneurs. It is this phenomenon that explains why many beginner webmasters decide to become a freelancer.
It has never been so easy to make a Blog or an E-commerce site with free website generators, it is for this reason that many beginners (especially individuals) decide to start their own freelance business. and tell themselves that they can easily market this new skill, convinced that the job of web designer is very easy.
You will have understood it, in the first part of this article deals with novices who have no skills in web development but who improvise as boss of a web agency. We are not talking about professionals whose website creation has been their real job for many years. So how to change from current web provider to another?
As you know, when you are not an expert in a professional field, it greatly increases the chances of making disappointed customers. And to take it a step further, the famous marketing rule applies, a satisfied customer will tell 3 people about it, and a dissatisfied customer will tell 9 people about it, so imagine the opinion that the big one can have public vis-à-vis the majority of current web professionals.
For about 2 years, at Webmaster Philippines, we have noticed that more and more calls come from website owners who want to change webmasters, or who want to change web agencies. So here is a guide, a tutorial, to teach you how to change webmasters safely.
Tips for changing webmaster or changing web agency
A) Securing, protecting and backing up your website:
First, before calling your web designer to tell him that you want to end your contract, you must secure, protect and save your entire web environment from any interventions by your current webmaster:
Make a backup of your database and make a backup of your website (you must download the source files of your website, locally, that is to say, on your computer);
Change your web hosting password;
Change your database password if you have a dynamic website;
Change the password of the FTP account that your webmaster uses to intervene on your website;
Change the password of your Email box if your webmaster or web agency had access to it.
B) Maintain control of your website:
If you can't back up your site or access your website's database, your current web designer doesn't want you to have administrator access. Most web agencies and webmasters do this to prevent you from changing webmasters. This is to encourage you to stay with them, moreover some web agencies and webmasters will tell you that if you do not stay with them, you will lose your website. We advise you to use trickery so as not to arouse the suspicions of the web agency or webmaster in charge of your website. Try to find a reason to back up your site. Your priority will not be to be an administrator, your priority is to have a copy of your website.
If it is a showcase site:
Tell your webmaster that you would be more reassured if you could have the source files of your website on your computer, it would be a way to always keep the site if ever a serious accident happened to the web agency (closure, works, confinement , death, transfer of activity, etc.);
If it's a dynamic website:
Ask your webmaster for a copy of the source files of your website, but above all, ask for a copy of the database (generally an SQL file). A dynamic site is always linked to a database, this is what keeps the information that can change (called "variables") and which is displayed on your website (Emails, passwords, configuration of your site etc.);
C) Remain owner of your domain name even if you change webmaster:
Having your website is not everything, you also need to be sure that you are the legal owner of your domain name (.ph, .com). You must have access to the registrar. The registrar is a registrar, which names the companies that can register and reserve a domain name (OVH, Ionos (1&1), GoDaddy etc.).
Some web agencies and webmasters reserve the domain name of their clients, under their own name, and not in the name of their clients, which makes them the owners. It is advisable to read their general conditions of sale, and to inquire, to compare before choosing to hire a webmaster or hire a web agency. We advise to tell your current webmaster, that you have a friend who visited your beautiful website and knows a little about it, and who told you that you were not the owner of your name. domain. You can check the information and see who is the owner of a domain name by going to a free online tool like "WHOIS".
Chez Super Webmaster, vous êtes le propriétaire exclusif de votre site Internet At Webmaster Philippines, you are the exclusive owner of your website once the site is fully paid. At your request, we can provide you with a copy of the source files of your website. We can help you explain how to transfer your domain name if you decide to change web designer.
How much does it cost to
change webmaster

?

If you do not know the webmaster or the web agency you want to hire well, it is better to think of the worst. If you are not confident, it is better to choose payment in installments. This will allow you to block future payments (to your bank) if your webmaster decides not to continue a job for which you have hired him or if he does not want to provide you with a copy of your site's source files Internet. Money is the sinews of war, by depriving your webmaster of receiving money for work that has not been done, you will keep this means of pressure to force him to respect the contract that has been established between you and him.
BONUS: The tricks and scams of some big web agencies:
This will help you compare some important criteria for choosing a digital service provider. It is a help that can be used to take the plunge to change webmaster or web agency safely.
There are tons of scams and practices that do not respect website owners. Indeed, many web agencies and webmasters have no business ethics, nor respect for their customers, they want money and only money! Many web agencies and webmasters are not there to help you improve your visibility on the Internet.
We have listed what most of the time we blame webmasters and web agencies for working very poorly. Here are the most common cases:
What prevents you from having a quality website. Site badly coded, badly realized and not optimized for web referencing (SEO);
This prevents you from having good visibility on search engines (Google). No effort on the optimization of websites as well as their indexing on search engines;
What prevents you from changing webmaster. The webmaster slows down the process, he no longer gives news by turning a deaf ear, he can blackmail, saying that you will lose your website if you decide to leave him.;
What prevents you from using your website completely;
Web agencies that make you sign contracts with tacit renewal (automatic renewal) without notifying you.
Choosing a webmaster or a web agency is not at all easy, in order to give you more elements to better compare the offers of webmasters and web agencies, here is the list of what real serious professionals hate the most in much less serious colleagues:
The "Title" and "Description" tags of websites are not filled in at all;
ALT tags of images that are not filled in at all;
Images that are not compressed;
Contracts with tacit renewal (this forces you to renew your contract with your web agency if you do not show them the wish to stop working with them);
Fake traffic guaranteed, some web agencies promise you guaranteed visitors in addition to buying a website. Very often, the traffic is either artificial and Google penalizes this kind of practice, or it is useless traffic from other countries and from dubious websites;
Websites are not even indexed or indexable on Google.
Maintenance contracts are not respected, or maintenance is almost non-existent (updates, backups, repairs). A website is seriously maintained, it is for this reason that at Webmaster Philippines, we never sell our websites without a maintenance contract;
Sites made with big display bugs and abandoned;
Non-responsive websites (Google is clear on this subject, sites that are not suitable for tablets and mobiles are not "mobile-first", will be much less well indexed compared to websites that meet this criterion );
Web agencies who think more about putting their advertising on their clients' websites (they think more about the visibility of their web agency rather than that of their clients, by sticking banners, articles, favicons, backlinks that are too big, even if it means deteriorating the aesthetic aspect, the user experience and the referencing);
Sites that are not secured with an SSL certificate (Google is also clear on this point, websites that are not secure are disadvantaged compared to websites that comply with this rule);
Overpriced prices are an old sales technique that consists of lying about the price of a product or service. There are many salespeople working for web agencies, who practice this kind of technique, they are ready to lie about the price of a website, in order to be able to negotiate on an excessively high price, this makes it possible to maintain the profitability of a site. Internet sold for the web agency and this makes it possible to leave intact the sellers' negotiation margin, so their commission rate remains at 100% (the salespeople receive 100% of their commission with this old sales technique);
The quality of images which are not in high definition and which do not fit very well on a website (images with white font on a black background for example);
Undeclared work;
The sale of websites at high prices when they are free site generators that have been used;
The quality of the code that does not respect the rules of the art of real web development;
These are the main important criteria to take into account when you want to change web designer. Changing web agency or webmaster is a mission that can be very complex and perilous. But rest assured, there are very serious webmasters and web agencies whose priority will be above all to advise you and not to absolutely win a deal. The role of a good web designer, see the best webmasters, will always be to provide real advice to help you run your business thanks to the website they will have created for you;
Webmaster Philippines is also available if you have any questions about changing your webmaster, or to give you guidance to help you leave your current web agency.