SEO Website Optimization in the Philippines
Do you want to create a website? Be even more visible on the biggest search engines with easy-to-implement SEO techniques? You are on the right page to learn all about website optimization in the Philippines.
Here is a rich content, between guides, tips, and pitfalls to avoid, you will be able to make clear and precise specifications thanks to this article.
This article is in fact the page of our website optimization service, it includes essential tools for webmasters. You will be able to expand your knowledge effectively and choose the ideal web designer for your web project.
In addition, we would like to point out that certain elements quoted on this page are purely educational and instructive. It is dedicated to Filipino entrepreneurs who would like to know more about site creation, web referencing and optimization in order to obtain better technical performance and positioning on Google.
Definition and explanations of SEO
Natural referencing called "SEO" for Search Engine Optimization in English, is a set of techniques that allow search engines to rank websites according to their technical quality and their efficiency in responding to specific requests made by Internet users.
SEO is done in two possible ways, on a website and also outside of it "Onsite" and Offsite".
More clearly, the more a showcase site is technically of high quality and the more reputation it has thanks to other sites already in place on the net, the better it will be ranked in search results.
A search engine results page is called a "SERP" for Search Engine Result Page.
There is also local SEO, which makes it possible to optimize a website only for a specific geographical area. The national referencing is designed to have a natural referencing dedicated to a defined country.
How, where and by whom, create a showcase website?
There are several ways to own a website. There are several types of sites, for an online store, you need an E-commerce site, to create an online community, you will have to create a forum, to receive more readers, you will have to plan to make a blog. Know that in all cases, there are advantages and disadvantages.
Some web designers, web agencies or site editors do not all guarantee that you are the sole owner of your site if you no longer wish to work with them.
"Direct Sales" oriented web agencies
They are known to make more expensive sites than other digital professionals. This can be understood in most cases, because they have more expenses, because they are real companies with employees to pay and premises to maintain and finance. Due to all these charges to be paid, some web agencies use quite controversial methods.
Most have contracts with tacit renewals, it is a way of automatically renewing the customer's contract. By scrutinizing the opinions on the Internet, on various forums or knowledge sharing sites between consumers, customers and former customers testify to their surprise when they realize that the date of their schedule is suddenly renewed automatically.
In addition, some agencies have fleets of salespeople. These are salespeople who go door-to-door or by phone. This canvassing is often considered to be aggressive and insistent.
Between "One Shot" sales and aggressive sales techniques, our advice is to tell you never to sign a contract on the first appointment.
As SEO criteria are not a knowledge mastered by novice website owners, it is not uncommon for some net professionals to abuse this lack of knowledge by making beautiful promises.
Remember that it is impossible for a web agency or a freelance web designer to guarantee that your website will be on the first page of Google thanks to natural referencing techniques (SEO).
It is possible to be on the 1st page of Google only with paid referencing, called "SEA" with Google Ads campaigns (Adwords) for example.
As the founder of Webmaster Philippines points out, the website creation market lacks transparency and honesty, take your time, compare, read reviews and don't make hasty decisions before choosing a web designer.
Traditional web agencies
Considered serious and prestigious, they support large-scale web projects. It is generally a large office with graphic designers, web developers, graphic designers, web integrators.
They are very well organized, and they often have a good reputation on the net. Digital agencies deal more with large companies such as large accounts, influencers, large groups and their subsidiaries.
Their important clients have "specific development" requests, they can make mobile applications on iOS or Android, CRM (Customer Management System) institutional and governmental sites and much more.
As you will have understood, financially speaking, they are not in the "Inexpensive" range.
Freelance web designers
They are solo entrepreneurs, they are alone and on their own. Graduates or self-taught, they are often web developers and/or graphic designers. They love the world of website building in general.
Some are specialized, between the domain of the Showcase Site, Blog, Forum, WordPress E-commerce website, and even mobile applications.
But beware, some do not actually create websites, they use free online site generators to then resell them, and that's dishonest. As these kinds of platforms promise to make sites without having to know how to "code", some improvise themselves as "web developer" or "web designer" when they do not have the required experience or skills, and do not have gone through no training in web development and/or webmastering.
Other web designers are real enthusiasts who do very good work. Besides, maybe we should do a ranking of the best web designers in the Philippines, what do you think? It would be a web page that could list all the links (in Dofollow) of the websites of serious web designers approved by Webmaster Philippines. It would be a kind of directory for web designers.
Regarding the prices of websites, it is very varied on the market for the creation of websites.
The quality of the website Webmaster Philippines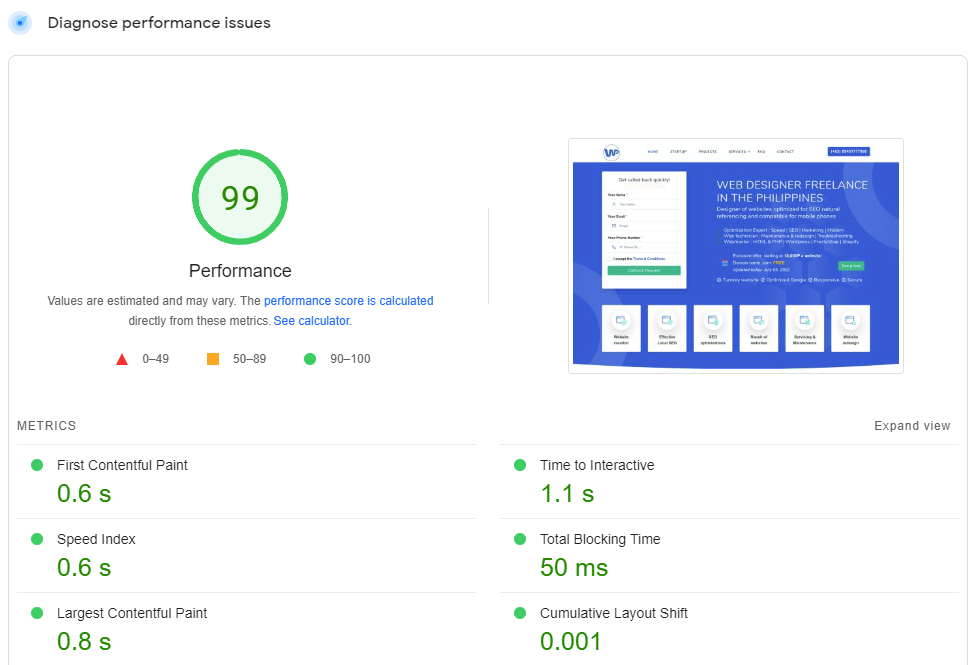 SEO is a skill that requires a lot of work, a lot of time and energy, but it is what is the most profitable and the most sustainable. No robot or site generator can guarantee to obtain such good technical results in natural referencing.
Our website is ultra optimized for web referencing, because we are aiming for the long term by wishing to prove to our customers that quality can be beautiful and very real.
Quality is one of Google's most important selection criteria. Webmaster Philippines is gaining SEO every day and outperforming some other peers in its category on certain keywords, and in just a few months.
It is this skill, this aptitude and this ability to work that we offer our clients. The creation of a showcase website is our specialty, and our passion.
11 essential criteria for have an SEO Friendly website
1) Make company information visible
The company's phone numbers need to be visible, even when users scroll down the pages.
It is also recommended to display the opening hours of the physical trade and/or telephone support in the footer (this is the footer of the internet page). Also, the postal address of the head office or the shop is also welcome.
A recommendation consists in making a clickable link directly on the telephone number, in this way, Internet users consulting a website on a mobile phone, will be able to click on the telephone number present on the site, Android and iOS smartphones will offer their visitors if they want to call this number, without having to dial the phone number.
It's a huge time saver rather than copying and pasting a number. The same can be done with an email address.
Here are the sample HTML codes to make an email address and phone number clickable:
Email: <a href="mailto:contact@domainname.com">contact@domainname.com</a>
Phone: <a href="tel:+63123456789">012 2345 6789</a>
Some web designers prefer to put their phone number and email address as an image to avoid being spammed "polluted" by spammy bots.
2) Secure and encrypt your website
The site must be secured using an HTTPS protocol (SSL certificate). This makes it possible to encrypt and encode the exchanges carried out on a website. Most web hosting offers an SSL certificate, more precisely called "Let's Encrypt".
Just look in the "Cpanel" administration panel of a web hosting then check a box, it's very simple to set up.
You will easily find the way to activate the SSL certificate of your site by following the tutorial certainly written by your web host.
3) Make a Responsive website
Since the Internet giants GAFAM (Google, Apple, Facebook, Amazon and Microsoft) have found that most of their website traffic comes mainly from tablets and mobiles, Google has decided to favor websites that are suitable for tablets and mobiles.
Indeed, a website must be "mobile-first", that is to say, suitable for all kinds of screen sizes, mobile phones, tablets, and of course, computers.
4) Optimize content for better SEO performance
Writing web content is an essential part that should not be overlooked. Good content means adding value, being sincere, honest, impartial, and detailed.
The content, that is to say the text and the images, must be rich in information and must always remain related to the theme of the site or the professional activity. Each page must have a very distinct and precise lexical field.
A website must have at least 5 pages (the home page, the presentation page of the company, the projects (portfolio) or the services, the page where the contact form is located and without forgetting, the page of the legal notices) .
Some online tools, most of which are paid, will help you write your content to make it SEO friendly, that is to say, optimized for natural referencing.
5) Make a fast loading website
A website must be light, the pages must load quickly. A visitor who waits too long is a visitor who won't buy or contact you.
It is therefore necessary to optimize in terms of speed. There are several free online tools to test the speed of your site.
Webmaster Philippines recommends the use of these free tools: PageSpeed Insights from Google and/or GTmetrix.
6) Optimize website meta tags
Meta tags should be filled in and optimized. These tags are located in the upper part of a web page, which is called the "Header". They are used to provide accurate information to search engines.
To improve the natural referencing of a page, the "Title" tag must be filled with relevant keywords, 70 characters maximum not to be exceeded (580px).
The "description" meta tag should complement the title appropriately and should only have a maximum of around 160 (990px).
There is a plethora of metatags that give more precision and guidance to search engines, some of which are outdated.
7) Hierarchy of Hn titles
The H1, H2, H3 etc. tags must be successive and optimized with relevant, catchy and not too long titles, while remaining in the lexical field of your main keyword. You have to be careful to prioritize your tags, the order is important.
It is recommended to use only one H1 heading per page. Do not intersperse the titles, an H1 tag should not end up after an H2, H3, H4 tag and so on.
The headings range from H1 to H6. The H7 or H8 tag does not exist in SEO.
8) Compress images and pictures
It is possible to compress the weight of an image without changing its quality on display. Compression is an essential step in reducing the loading time of a web page.
It is recommended to compress your images in jpeg 2000, or webp format.
9) Compression of HTML, CSS, and JS codes
A website is made of several computer languages such as HTML, CSS, PHP, JAVASCRIPT and many more.
Compressing a code consists of reducing the weight of files by erasing spaces and comments which are considered useless.
These pieces of code, which can represent scripts, must be compressed in order to load the dependent elements of these files more quickly.
10) Optimize image "ALT" tags
The "Alt" tags for "alternative" must be filled in correctly and must define the image or photo.
This is how the Google images search engine can index and reference them, because it is not yet able to read the content of images or photos.
11) Website caching system
Caching the resources of a website is a kind of buffer. Web browsers such as Google Chrome, Internet Explorer, Mozilla Firefox and others can remember certain elements of a site so that it loads more quickly on subsequent visits by the same visitor.
Caching can be managed on several levels, server side, web browser side, and also thanks to an htaccess file which is at the root of a site.
For a site made with a CMS, such as Wordpress, there are popular plugins that allow optimal caching such as WP Rocket or W3 Total Cache.
For a Landing Page or a showcase site made by hand in HTML, it is rather necessary to manage the cache with an htaccess file and on the server.
The help of a confirmed web designer is essential to set up such a configuration, because everything depends on the type of web server used.
It is possible to cache images, different types of text, different resources so that the content of the site loads more quickly according to a determined duration.