Web designer to create your WordPress website in the Philippines
Do not make a Wordpress site without the help of a confirmed webmaster
Wordpress and people
Life is becoming more and more expensive, it is for this reason that many people wish to have an additional income. With Facebook pages not as effective as they used to be, new web newbies are getting into designing their own website on their own.
This article may surprise you, it also explains that with all the solutions that may exist, the services of a web designer will always be essential for beginners. A Worpress site is made to be maintained regularly.
Webmaster Philippines has been creating Wordpress websites for many years. Without advanced knowledge, it is complicated to update themes and plugins, troubleshoot, debug, and even perform redesigns or SEO optimizations.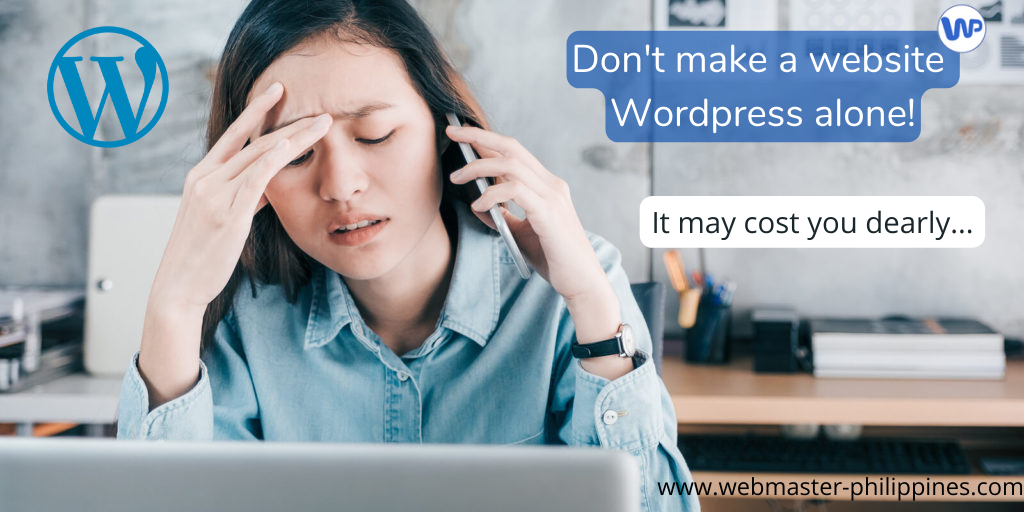 How much does it cost to make a WordPress site by yourself?
The Wordpress tool is a good compromise between quality and price since it is "supposedly" free. It offers a multitude of possibilities.
However, Wordpress is not completely free, Webmaster Philippines has studied the subject extensively. The real cost of a Wordpress E-commerce site over a year in detail:
Domain name: a

domain name costs 515 ₱ / Year

Web hosting: a

web hosting costs around 3500 ₱ / year

Number of problems / incidents: Number of problems per year: Our analysis and our experience allow us to say that a wordpress site encounters between 5 and 9 major problems or incidents each year. This is caused by regular updates prescribed by Wordpress and hacking attempts. These are updates for themes and plugins, so that they are compatible with the latest version of Wordpress. A Wordpress site encounters an average of

7 incidents per year

.
Average repair cost: It takes 50€ per hour for a confirmed web designer who knows how to troubleshoot a Wordpress site quickly. On average, it takes him 5 to 8 hours to repair and make a WordPress site fully functional.
Purchasing a premium theme: Wordpress offers free themes, but they are far from satisfying most users and are not SEO Friendly. The favorite theme for Filipinos is the DIVI theme, it costs 89 dollars, which is just

under ₱5000 / year

.
Website Builder Elementor: To make a Wordpress site you also need a Website Builder, the subscription for Elementor for example, starts at 49 dollars per year, or

around 2700 ₱ / Year

.
Purchase of paid plugins: In order to optimize a Wordpress site, secure it, and make it much more visible on the net, it is necessary (see strongly recommended) to install plugins. These are extensions, modules that fit into the WordPress skeleton. These plugins are marketed by groups of independent web developers or web agencies. On average, Wordpress customers use between 30 and 60 plugins, not all of them are free. It takes, for a quality plugin about 1700 ₱ to 2800 ₱. On average Wordpress users use about 20 paid plugins. Which can represent an annual cost of around ₱34543.
The total cost of a Wordpress site for the year is:
Starting from an average of 5 problems encountered which lead to the intervention of a freelance web designer (not a web agency) quickly because it would only take 5 hours for each intervention, and on a Wordpress site which would have a Premium theme and the most popular plugins necessary for its proper functioning. We can say that the price of a Wordpress website does not come below a certain amount.
The price of a real complete and optimized Wordpress website is very rarely below ₱78759 per year (or ₱6563 per month).
Web designer services cheaper than WordPress?
The answer is mathematically and financially, yes! This is one of the reasons why Webmaster Philippines was born.
With a great knowledge of the market for creating websites in the Philippines, the team of Webmaster Philippines has long analyzed and studied precisely the real cost of a site made with Wordpress.
Webmaster Philippines is less expensive than Wordpress because the websites are meticulously developed and coded, which does not require 5 web designer visits or forced updates every year.
At Webmaster Philippines, a Wordpress website, maintenance included, costs you only 6000 Pesos per month the first year, and only 1000 Pesos the second year, since you no longer have to pay for the creation of the site in the following years.
What Makes WordPress Successful?
Wordpress is a very good free downloadable solution. Practicality, simplicity and free means that anyone can open a Landing Page, a showcase site or an E-commerce site in a few hours.
In addition, setting up and installing a Wordpress site is only done step by step, and step by step, it is ideal for neophytes.
New users feel like they can't make mistakes when installing Wordpress.
This step by step, when setting up Wordpress, reassures and eliminates the fear of not doing well or of not succeeding.
What Makes Wordpress Themes and Plugins Buy?
Purchases related to additional features of Wordpress represent millions and millions of Pesos, it's pharaonic. The WordPress business model is actually a sales technique, a simple, well-known commercial technique. No one feels like they're paying dearly.
We click on a button to download Wordpress, we follow a step by step to install the open source script and voila, your site is online, nothing could be simpler!
Moreover, thousands of fake web designers market this beginning of know-how to pocket the deposits and disappear in nature (but that's another subject).
So users start following tutorials on social networks or on YouTube to learn how to set up a Wordpress website by self-training.
The hours pass and so do the days. Many users spend days and hours or even years configuring and optimizing their Wordpress website.
But it's already too late, they can't go back, they have invested too much time to cancel.
In economics, we talk about the Sunk Cost effect or syndrome, users have already invested a lot of time trying to learn how to configure menus, options, colors and the creation of Internet pages, which they can no longer give up or start again this project which would allow them, without doubts, to have a secondary professional activity and thus, an additional income.
Caught between the hope of building a successful business using free tools and the fact that they can't afford to waste the time they've already spent building their Wordpress site, they don't see only one possible outcome, regularly buy plugins that will allow them to have a Wordpress site that meets all the criteria of search engines, anyway, they can't go back.
This is one of the main reasons that themes and plugins are purchased users become addicted customers.
Even today in 2023, put it to the test by asking WordPress site owners how much they spent altogether, most will be unable to come close to the amount actually spent.
This is not a complaint, it is a fact.
As proof, if to use Wordpress, it would cost only 1000 Pesos per month, the success would not have been the same, there would not have been as many users as today.
Wordpress keeps the promise of having a site, that's for sure! But free themes are not so aesthetically great and have very limited and limiting features regarding SEO.
Is it worth hiring a Wordpress web designer?
Some think that the job of web designer is dead and that it would be useless to call on the services of a Wordpress web designer, they are wrong.
On the contrary, many web developers specialize in web design for Wordpress and put their know-how at the service of users who cannot adjust their Wordpress site themselves.
As we said above, Wordpress regularly releases security and functionality updates. However, some themes and extensions are not compatible with the updates imposed by Wordpress, this is where the problems begin.
The code of this famous CMS, intertwines and depends on many files, it is a complex code. This is why it is best to call on a real web designer specialized in Wordpress to resolve incompatibility issues.
In addition, Wordpress is so widely used that hackers develop hacks to inject malicious codes to steal databases or redirect to sites filled with advertisements.
In this way, its web crooks generate millions of Pesos. A good web designer can clean your Wordpress of these malicious files.
Regarding the services of Webmaster Philippines, we troubleshoot, clean, and optimize websites made under Wordpress.
Web designer to optimize his Wordpress website
Webmaster Philippines, in addition to choosing the essential plugins that will optimize your Wordpress website, we make changes in the source code to make your site faster and lighter.
We compress every image on your website without lowering their quality. A lighter image is a web page that loads faster. Google is clear on this, the faster a site is, the better it will be indexed in the search results (SERP).
In addition, we correct all broken links, and repair poorly configured hyperlinks.
We also ensure that the redirections of your domain name are properly implemented (redirection to the https version of your url, and redirection of your url to the correct version with or without the www).
Web designer to troubleshoot his Wordpress site
At Webmaster Philippines, we troubleshoot your Wordpress site. If your theme is no longer displayed, or if there are display problems, this falls within our areas of expertise.
If you have your descriptions written in Polish, Chinese or Russian, your Wordpress site is infected, we can clean up your Wordpress files.
If suddenly a plugin no longer works, we can help you find the source of the problem.
No more access to your administration area? Your Internet page displays a 500 or 404 error, Webmaster Philippines is at your disposal.
Contact us to troubleshoot and repair your Wordpress website, even on Sundays.
Web designer to redesign his WordPress site
You want to change the Wordpress theme, you want to go on a change of design, we are also in the possibility of redesigning your Wordpress site.
The redesign is a sensitive moment. Indeed, you have to redesign your site, without affecting the performance of your current web referencing (SEO).
We must also think about keeping or even improving the user experience (UX).
Finally, what should also be taken into account is the number of pages and articles that the Wordpress site has.
Contact Webmaster Philippines to discuss the price of a complete redesign.
Web designer to create a Wordpress website
Webmaster Philippines has worked for many years with Wordpress, whether it is a Blog, a Forum, an online classifieds site or a directory.
Most often, we make websites for Filipino entrepreneurs, for massage parlors, restaurants, real estate agencies and sites for dropshipping.
Always with a concern for quality, we develop fast, modern and optimized Wordpress sites so that they are correctly indexed on Google.
We do not sell a Wordpress site alone, we always associate maintenance in order to be always present at your side.
With our maintenance package, minor modifications are included and therefore are free and unlimited (within certain limits).
What is also included is that we visit every week, all the Wordpress sites that we have made, in order to update the themes, and the plugins for you.
Conclusion web designer or WordPress?
Wordpress is a very nice solution, which is technically very well done.
This platform is not free as one might think, but it is an experience that is worth it. There are millions of Wordpress sites online, and not for nothing the product is good.
This does not mean that we should think that a web designer is no longer useful.
A Ferrari also needs maintenance and therefore needs the services of mechanics.