How to find a good cheap web designer in the Philippines?
Create a cheap website with a cheap web designer, it's possible!
Replace one web designer with another, know how to compare and choose, we answer all your questions.
What impacts the price of website creation?
The slower a web designer is to code a website, the longer the development and setup time, the higher the price will be because many freelance web designers offer an average daily rate (ADR) so they get paid on time and not "on the spot".
Webmaster Philippines, code quickly and well, this skill can be akin to a somewhat special know-how called "speed reading", it consists of reading and understanding a book as quickly as possible.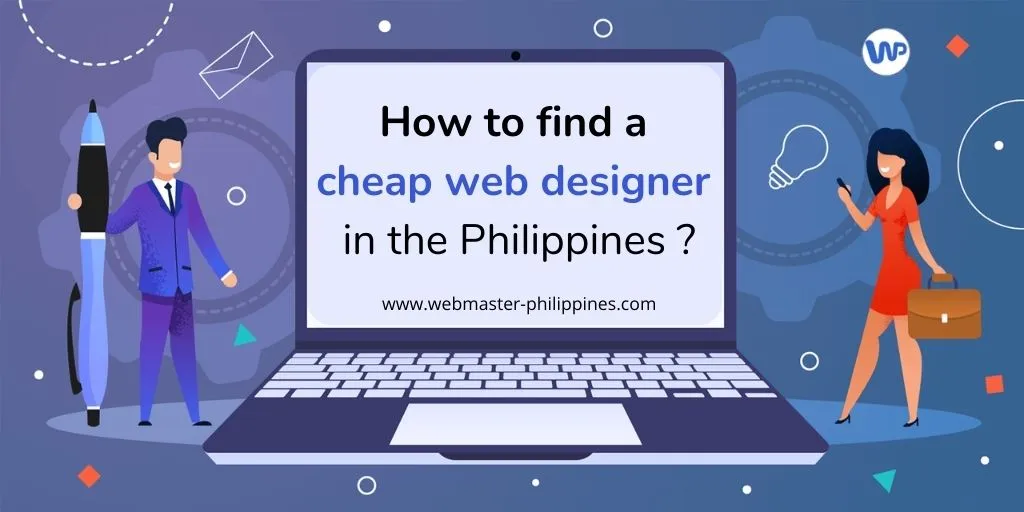 THE OPTIMIZATION OF THE SITE (ONSITE) FOR NATURAL REFERENCING (SEO):
Every detail matters in web development. A website is said to be qualitative and optimized for SEO (natural referencing) when full of technical criteria are met.
The algorithms of search engines like Google, Yahoo, Bing and Yandex, set selection criteria to allow their web page crawlers (bots) to rank websites in search results (SERPs).
These criteria are often invisible to visitors, as they are found in the HTML, PHP, or CSS code. Or in hidden files (htaccess, sitemap.xml, robots.txt and others).
Many professionals in the (hyper competitive) digital world offer SEO optimized sites when they are not really SEO, they take advantage of the naivety of prospects and customers.
The best way to compare and estimate the quality of work on a website made by a web agency or a freelance web designer is to use online website audit tools.
Webmaster Philippines to find the 10 best free website audit tools online to know the performance and quality of your website.
THE NUMBER OF PAGES OF A WEBSITE:
It makes sense, the more web pages there are on a website, the greater the workload. Generally, a showcase site has 5 of them, the space for the reception, a section "Who are we" or "Who am I?", a location for the specialties and a contact form and a page dedicated to mentions legal.
If you want a large amount of web pages, it will be better to choose the services of a Wordpress web designer.
This popular CMS offers to make a dynamic site that generates more pages than a hand-coded website.
Wordpress is a very good solution, Webmaster Philippines is a great specialist and web developer. The content can be easily SEO oriented thanks to certain plugins.
However, Wordpress is very resource intensive, some themes are not optimized for SEO.
THE CHARGES AND TAXES THAT THE FREELANCE WEBDESIGNER MUST PAY:
An independent web designer is a web professional declared as a solo-entrepreneur or in other legal forms.
Even a web designer may have rent to pay, collaborators to pay, costly processes, such as a business account, bank card, payment terminal and others.
At Webmaster Philippines, we have reduced our charges as much as possible in order to keep prices very accessible for all types of small and medium-sized businesses (SMEs & VSEs).
Our processes and our operation have been digitized in an optimal way to save everyone time, and therefore money.
It is essential for us to offer accommodating and ultra-competitive prices for new entrepreneurs who have decided to start their own business, wishing to be visible on Google and therefore have better visibility on the Internet.
ADDITIONAL SERVICES AND VARIOUS SUBSCRIPTIONS THAT A WEB DESIGNER PAYS FOR:
A website is a web server, a domain name, a professional e-mail address, a phone line, and marketing strategies such as, for example, an advertising campaign (Google Adwords).
These elements represent costs that a web designer advances to his clients. The web designer pays these charges related to web hosting, it is wise to choose a good host in order to limit costs, it is also a criterion that lowers the price of a website.
The price of web hosting varies easily, not all of them offer an optimal experience or security.
CHEAP WEB DESIGNER AND SUBCONTRACTING:
It's a fairly taboo subject, but outsourcing is very present in the website creation market.
Some web designers outsource the production of sites, it is not as negative in itself as one might think, it all depends on who the web designer is working with. The price of subcontractors, web providers must be well established and negotiated and stipulated in the contract.
Establishing the relationship between a web designer and a subcontractor requires time and energy, which has an indirect impact on the price of the service of an independent web developer.
THE TECHNOLOGY USED TO CREATE A WEBSITE:
Some computer languages are more complex than others, which is why the price of a website can vary. It depends on the development language used.
The faster a web developer codes, and in a complex computer language, the more expensive it will be.
Some passionate web designers use complex languages because they like the challenge and absolutely want to put their know-how forward when it is not necessarily necessary. Prices can climb very high.
To put it simply, the job of a web designer is to correctly define the needs of the client, understand what the website will have to bring to its future visitors by using the right computer language, the right design, and a good optimization.
Suffice to say that it is difficult to find a cheap web designer with all these skills.
HOW TO COMPARE A FREELANCE WEBDESIGNER?
Comparing one cheap web designer with another is not easy. Always take the time to compare prices, compare associated services, compare the quality of the websites they have already made.
To find a website made by a web designer, there is a trick.
Most web designers sign the websites they have made by putting the link or the anchor of the hyperlink at the bottom of each site, you can copy this signature, and paste it on Google to search for it, you will find a list of websites made by the web designer in question.
CHEAP WEB DESIGNER REGISTERED OR NOT?
Check if a web designer is a professional whose company is registered with the SEC (Company Registration System) and has a valid number.
It is also important to know if your website creation contract is well established and does not have tacit renewal.
It makes working with an undeclared web designer, it's working with a person who will not be able to get you to sign a valid contract. In this case it will be very difficult for you to recover your money in the event of a dispute.
SHOW ME YOUR WEBSITE I WILL TELL YOU WHO YOU ARE!
It is also important to visit the website of the web designer you wish to engage with, this allows you to guess and estimate if he is precise, diligent and competent for his own business.
There's nothing more important for a web designer to show their best image. He must necessarily have a site that is technically and aesthetically flawless.
His website is the only way he has to make himself known apart from social networks.
If he knows how to apply himself for his own website, his professional showcase, there is a good chance that he knows how to apply himself to create his clients' sites.
Tell yourself that to make his own website, he took time and all his skills in terms of web development and all his know-how in terms of natural referencing.
A professional showcase site must be airy, precise, complete, fast to load, beautiful, welcoming, compatible for tablets and mobiles (responsive and "mobile-first"), secure, and must have legal notices and general conditions of sale clear and precise.
This is the minimum that a website of a serious web designer must have.
Consider doing a performance audit of the websites of the web designers you are comparing. You will learn more about them before you even call them.
CHEAP SITE CREATION BY A CHEAP WEB DESIGNER IN 2023?!
The title is a bit weird, of course! But know that Webmaster Philippines certifies you that it is possible to have a cheap website of superior quality and optimized for web referencing, made by a cheap web designer in 2023.
Cheap web designers specializing in site creation are more and more numerous, and promise more and more results that are even more effective than other competitors.
It is this phenomenon that makes the value of a site cheaper, the trivialization of the profession, the generators of free websites, the arrival of so-called freelance web designers, foreign or not, who abound on the web.
Everything that is rare is expensive, this is not the case for Internet sites. A website is no longer something rare.
Technologies and services are evolving at an impressive speed, web development is one of the skills accessible to everyone and to anyone who wants to learn it through online training.
It is for this reason that more and more self-taught web designers are appearing on the net.
It is all these parameters that make a web designer expensive or not, it is a fair balance between his expenses, his speed of execution, and the technology he uses to develop a website.
The creation of a site for a freelance web designer must be a real passion in order to last over time.
Many are quickly abandoning this digital craft, and customers suffer most of the time by finding themselves without a web designer anymore.
Here is a complete guide that lets you know how to change web designer.
WEB DESIGNER IN 2023, IS IT EASY?
It is not easy to be a freelance web designer, website creation is a difficult but exciting job that requires many skills in web design, computer languages, digital strategy, web marketing, accounting, and SEO. natural or paid (SEO and SEA).
Not to mention graphics, logo creation, and design as a whole.
Being a web designer in a company or isolated, requires having many skills, in addition to a great experience, it is undeniable. It is a trade, a real profession which must be a vocation.
The creation of sites in various professional fields allows webmasters to generate a solid general culture, and also allows them to meet customers from all walks of life.
For Webmaster Philippines, each site creation is a success, the birth of a new entrepreneurial adventure and a long-term collaboration.
The website creation sector has a lot of future ahead of it.
Will it be even easier to make a website in 2030? Will this profession still exist?